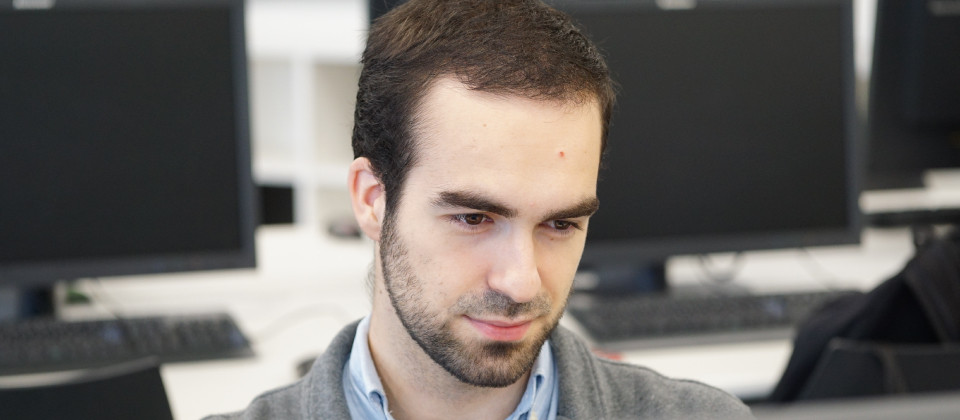 German Jimenez
from SPAIN

CG Images Dept.
JAPANESE ANIME WAS BEGINNING.
How I got interested in Japan
My brother, who is 4 year older than me visited Japan as a short-term exchange student every year since he was 15.
He told me a lot about Japan. I myself do Karate since I was 3 and watch a lot of Japanese anime such as "Dragonball," "Doraemon," so it was natural that I came to be interested in Japan.
Before I joined HAL
During summer holidays when I was 17 and thinking what to do after I graduate from high-school, I visited Tokyo with my brother. I participated in HAL's trial enrollment he recommended with no serious thought.
The first thing struck me was HAL's building design. I was amazed at such distinct and cool design. I did enter building, and attended a trial CG lesson. I did not understand Japanese, but my brother wasre to translate for me. Actually, teacher who gave me a lessonn is now in charge of my class. lesson turned out to be very interesting and exactly what I wanted to study. I felt "I must study at this school".
After that, I graduated from high-school and moved to Japan. I went to a Japanese language school for one and a half year and joined HAL.
I DID NOT SPEAK JAPANESE AT FIRST, BUT I AIM TO BE PROFESSIONAL STUDYING AT HAL.
Growth HAL Brought Me
At HAL, your attendance is strictly checked andre are a lot of assignments.
Deadlines are tight, too. You need to be very attentive to be able to meet all requirements. I do feel it is demanding, but never daunting, for lessons and assignments are all interesting so that I never minded waking up every morning to work on assignments, even during summer holidays. And, those around you will offer you help when you are in a really serious trouble. I did not work so hard at Japanese language school as I do at HAL. This school has changed me, because environment has enabled me to grow very fast, and gain knowledge.
I feel that way especially when I talk to my friends from other schools studying CG.
About My Teacher
My teachers gave me a lot of advice on my creative works.ir comments can be very critical, but always accurate in terms of "making me become professional," for which I am very grateful.
Their comments makes you want to improve your production.
I am also in a very good relationship with teachers in charge of supporting international students.
They are fun, bright, and charming. I can share anything withm.
School life at HAL
I met a lot of friends since I joined HAL. I like playing sports, especially soccer. I have known a lot of my friends through playing futsal. In my free time, I go out and attend soccer games everywhere with my friends. I was worried if I can communicate with others on first days of school, but was assured that little mistakes do not keep you from communicating or making friends.
I keep in my mind that I always feel happy, even when I am going through a hard time. I believe that will affect quality of my work.
So I make sure that I have time for playing soccer with my friends and refresh myself inside out, to be able to create a good piece of work.