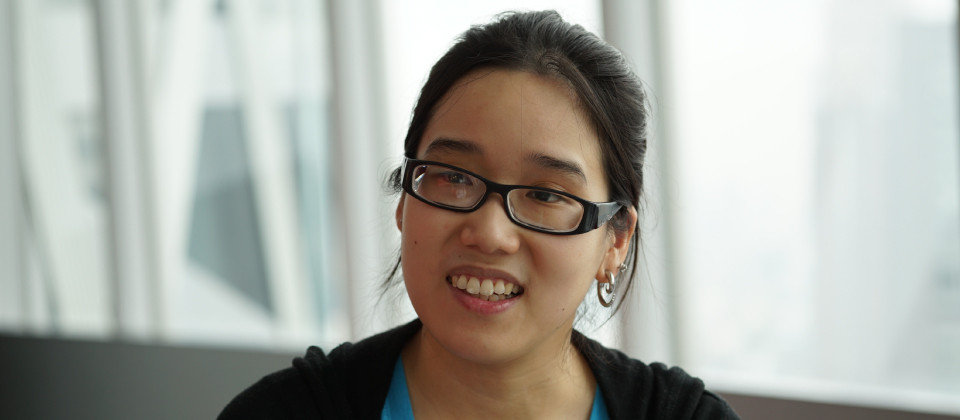 Chonnipa Nilubol
from THAILAND

Game Dept.
Unofficially offered a job as a designer in a game product company.
I LEFT GRADUATE SCHOOL TO PURSUE MY DESIRE FOR GAME PRODUCTION.
How I Came to Japan
I fell in love with Japanese computer games when I played titles of Super Nintendo Entertainment System.
Especially, "FINAL FANTASY" moved me when I was in the 5th grade at an elementary school. That title made me want to create games that can move people. Games made me interested in Japan and Japanese language, so I moved to Japan after I graduated from a university in Thailand. I spent the first three months studying at a Japanese language school, then I went to a graduate school. I majored in Research Biology, but the thought "I want to create games," had never left my mind. I could not give up that dream of mine. Finally, I made up my mind to quit the graduate school and join a school where I could learn about creating games.
Why I Chose HAL
When I was researching about schools to study game CG, I came across HAL's web site.
I was impressed with the comments from international students and the quality of students' work, and decided to apply for the trial enrollment.
I was really surprised at how HAL's facilities were very well-prepared. HAL was absolutely matchless compared to four other schools I also checked out.
Also, a trial CG lesson I attended were very interesting. All the teachers were highly experienced and excellent in their jobs. I felt no other place can prepare myself to be successful in the game CG industry, so decided to join HAL.
TEACHERS AND FRIENDS HELP ME GROW.
School life at HAL
In the first six months, I focused on studying too much and I did not have enough communication with my classmates. I was telling myself "I must study hard because I don't want to regret about quitting the graduate school." However, I began to have conversation with them more often afterwards. I made a lot of friends before I knew. My classmates have various different backgrounds. Like me, some of them are international students and others quit their school or their job to join HAL. Talking with them, I felt my horizon became broadened.
Growth HAL Brought Me
At the university and the graduate school, assignments and research works were usually done individually. But here at HAL, we work on them mostly as a team. In this situation, communication and cooperation with your teammates are truly essential. Pick one game title that is actually sold in the market, and you can see it is created by a lot of people cooperating. I cannot thank enough to the teachers and classmates for teaching me the critical communication skills before I go into the real world. Last summer vacation, I completed creating a game program for the first time, with the help of five friends of mine. There were bumps on the way for sure, but it was an extremely happy moment when our efforts were crystalized as one completed work. I was deeply touched by the amazing power a team of people can generate – it can take you to a place where working alone could never get to. And the bonds with my classmates became tighter.
About Job Hunting
At HAL, there are specialized teachers who support us in job search. From how to write a resume to how to write an e-mail to a company, I learned a lot of things from them. At first, I did not know anything about job search, so I asked as many questions as I could. I went to them so frequently that some teachers were soon saying "oh, it's you again." I am very grateful those teachers supported me with everything they had. Thanks to them, I received an informal job offer as a game designer, the profession of my dream.
STUDYING AT HAL MADE MY DREAM COME TRUE.
Dreams for the Future
In the future, I want to see my name on the end-credit of computer games.
It will make me happy to see my name on Japanese game titles, but seeing it on a game of my own country will probably move me even more.
I want to create games that my parents, friends, and everyone who always support me can enjoy.