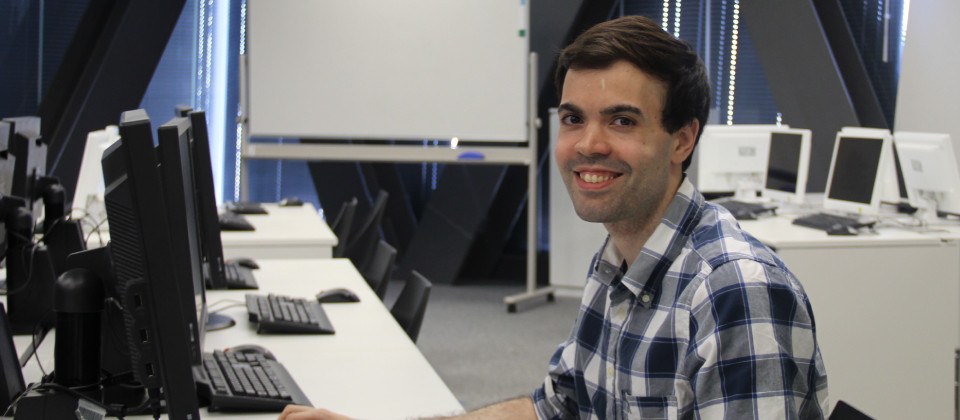 Fondevila Sebastian
from ARGENTINA

Game Design Dept.
Unofficially offered a job as a character designer at a game production company.
I LOVE JAPAN AND IT WAS THE PLACE I WANTED TO STUDY GAME DESIGN!
How I Came to Japan
I became interested in Japan because of Japanese movies and Japanese fencing. I had been a fan of Japanese samurai-movies for a long time, so I started Japanese fencing at the age of 15. This also led me to start studying Japanese language too. My interest in Japan increased as I studied further, and I visited Japan for the first time in 2009. While traveling I went to so many places, communicated with local people which I really enjoyed, and these experiences made me want to live in Japan. Also, I had a desire for learning to design games, since games had been my favorite hobby all along. Then I made up my mind to live and study game design in Japan.
How I Got to Know about HAL
I learned about HAL through its web site. I came across the web site when I was searching for information on the internet about schools to learn game design.
Actually, I passed by HAL's school building when I was traveling in Japan, and said to myself "what is this cool building?" I didn't even know it was a school until then. Soon I applied for HAL's trial enrollment, and the trial game design training was very interesting. Considering they have many experienced teachers, and have sent a great number of their graduates to major companies, I decided to join HAL.
HAL TEACHES YOU THE CRITICAL SKILLS IN BECOMING A MEMBER OF SOCIETY.
What is good about going to HAL
At HAL, there are many assignments that you need to work as a team.
Those experiences helped me acquire communication skills to collaborate with team members, and scheduling skills to meet the deadline.
I believe these skills are essential when we work in the real world, and you can learn them naturally if you study at HAL.
Memory of My Teacher
When I was still a beginner, my teacher looked at my work and said "It is a top-level work in the class." I was very happy and satisfied. After a few months, however, he gave tough comments on my work. I wondered why he did so, even though he had thought highly of my work earlier. Then, he said "even if you became the top creator in your own organization, there might be a better one in another organization." "As a creator, never look down who's below but always look up who's above you."
I am very grateful he taught me such an important lesson in working as a creator.
STUDYING AT HAL MADE MY DREAM COME TRUE.
Life in Japan
I have met so many people since I started living in Japan. When the school is off, I teach Spanish, which enables me to communicate with people of different ages, from little kids to aged ones.
Communicating with many different people every day was actually a valuable experience for my future career. A creator needs to set a target when creating games, thus needs to deeply understand about the target people.