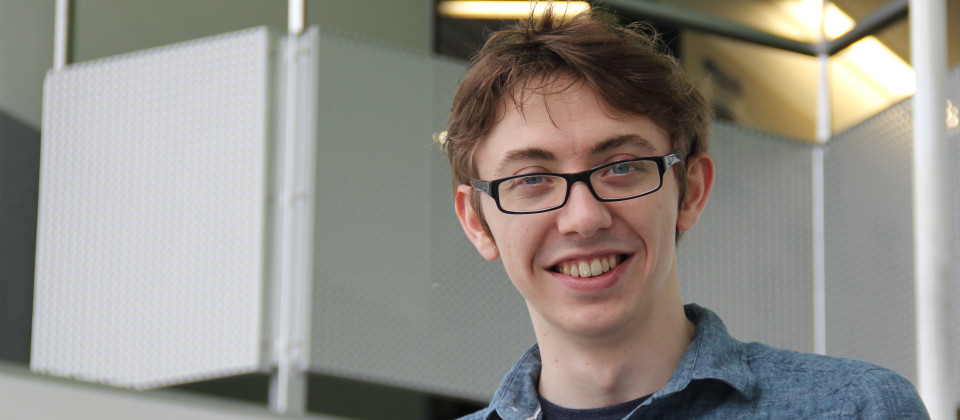 Nicholas Joseph Dahms
from the U.S.A.

Game Production Dept.
MY TEACHERS AT HAL ARE THE VERY PEOPLE WHO CREATED THE GAMES THAT FASCINATED ME
WHEN I WAS YOUNGER. THIS IS AN AMAZING EXPERIENCE!
Why I Chose HAL
I've been always interested in Japanese animations and games. Because of that, I became interested in the Japanese language and culture. After graduating from a U.S. university, I came to Japan and studied at a Japanese university while working as an English teacher. However, my desire to pursue "what I really want to do" gradually became stronger day by day. Finally, I made a decision to go into the game industry and become a professional. I knew about HAL already, but when I visited the campus, I was very impressed how all the teachers were professionals in the field with strong connections. I felt it might be a very effective factor in job searching, and decided to join HAL.
School Life
When I joined HAL, I had finished university and worked for a while. Being a little older than most of my classmates, I was at first concerned if we could have common things to talk about. But soon I discovered there was nothing to worry about. Everyone at HAL has the same goal. I met many good friends, and am having a wonderful school life.
Contents of Lessons & Curriculums
It's been an extremely valuable experience to be taught by teachers from the manufacturers that produced the very games I had played myself. Also, though I had no experience in programming, I learned it from basics, and now I am able to make whatever program I want to.
One of the messages I heard from the teachers that struck me the most was, "you should make games thinking they are really interesting. Otherwise, no one will enjoy them. So, let's have fun making games!" As in these words, I enjoy being engaged in game producing.
I FELT SECURE AND WELL SUPPORTED. THEY ALSO TAUGHT ME THE THINGS I SHOULD KNOW TO LIVE IN JAPAN.
Support for International Students
At HAL, there are teachers specialized in supporting international students. They teach me things I should know to live in Japan, such as specific institutions. This is very helpful. When living in Japan, it is very fortunate and reassuring to have someone you can always ask for help in things you don't know.
Dreams for the Future
First, I would like to get a job in Japan and get experience. Then, one day, I would like to produce games all by myself – including programming and music.