Go from ZERO to PRO!
If you're looking for employment, head to HAL!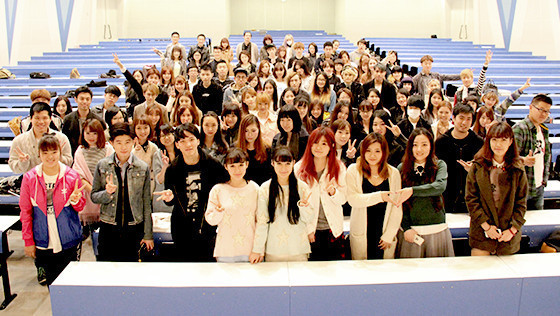 To all international students
There are no boundaries in the desire to learn.
There are 1,240 international students from 36 countries and regions studying at HAL (Tokyo, Osaka, Nagoya). * HAL has a variety of support systems so that international students can have a safe and enjoyable school life. As a school, we actively support everything from residence and daily life in Japan to employment at a Japanese company and acquisition of your visa. This is what HAL can do to help all those who are motivated to learn.
* The results of 3 HAL (Tokyo, Osaka, Nagoya) school as of the end of January 2021.
Open Campus
Visits / Consultations every day, even online! (10: 00-20: 00, except Sundays and public holidays, 12/26 -1/5)
Let's go to open campus!

Trial enrolment
Available everyday! Online individual consultations
International Student School Information Sessions
Online seminars to prepare international students for the entrance exams
Available every day! Admission counseling sessions
▶︎List of events for international students

Welcome to HAL
HAL opened in Osaka in 1984. Currently, it is one of the largest vocational schools in Japan, with a school building located 3 minutes on foot from each terminal station in Tokyo, Osaka, and Nagoya.
It is a school accredited by the Minister of Education, Culture, Sports, Science and Technology ""vocational practical specialized course"" for practical education recognized by Japan. We have created a state-of-the-art learning environment by collaborating with world-leading companies such as Nintendo and Microsoft in various ways.
At HAL, about 8,000 students are studying majors in the fields of games, CG, animation, music, car design, WEB, and IT. Graduates are highly rated due to the practical skills and employment guidance obtained that reflect the needs of human resources in each industry.
Additionally, we have introduced an study abroad system at the Paris campus ""CREAPOLE"", creating an environment for nurturing creators who will become active around the world. .
WHY HAL?
One-on-one guidance is provided by employment guidance instructors who understand the human resources needs of companies.
"If you're looking for employment, head to HAL": this phrase has nothing to do with whether you're Japanese or an international student.
For those who are looking to get a job, the employment guidance instructors will give thorough individual guidance from how to write a resume to interviews, production and presentation of your employment portfolio.
Thorough support for gaining qualifications and certification exam preparation, which are powerful weapons when applying for jobs.
Additionally, we provide full support for finding employment in Japan, such as preparation for finding a job as well as acquisition of your visa.
Impressive "contest achievements"
Many prizes won consecutively in contests in a wide range of fields.
It's your turn next!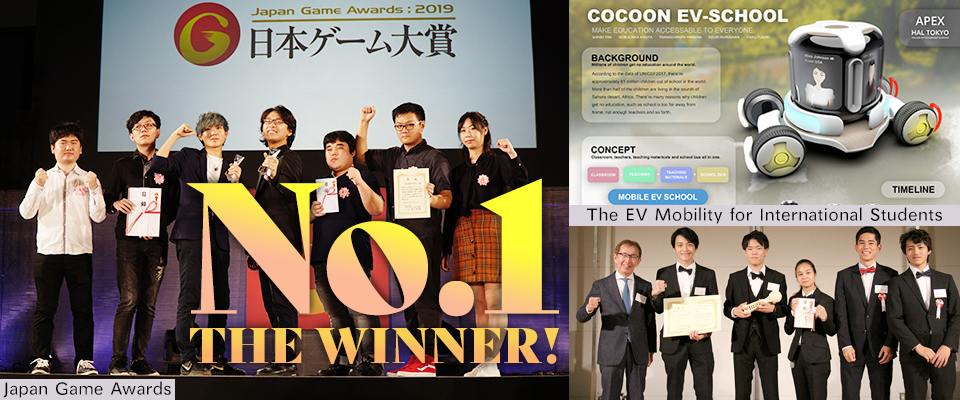 School direct case study By collaborating with companies and creators, we handle everything from planning to commercialization and help you acquire "authentic strength"!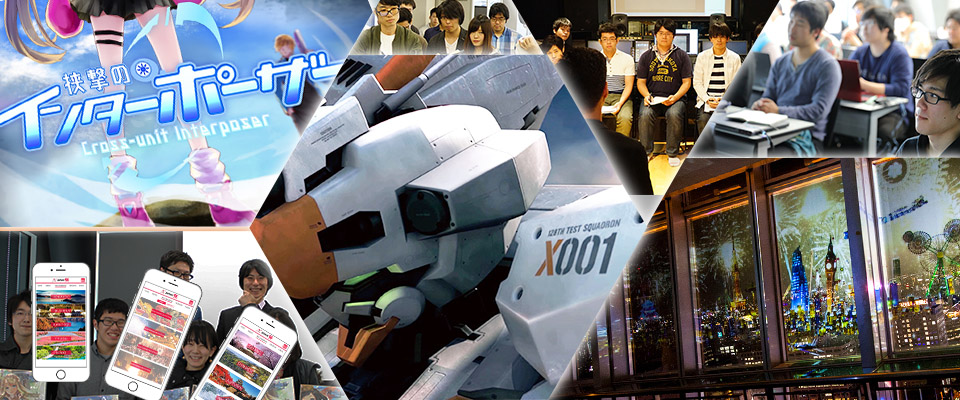 "Special seminars" with direct guidance by professionals direct guidance from world-class creators and top runners in the industry.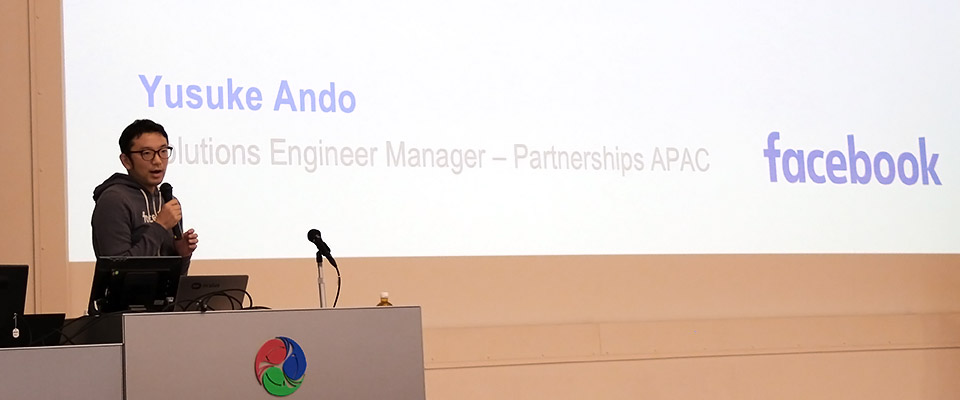 International student support system
1. HAL is an "approved school", an "appropriate school", and an "accredited school".
2. Upon graduation, students will receive a diploma and the title of "Advanced Diploma" / "Diploma".
3. There is a special course to help improve your Japanese proficiency.
4. There is an international student support system that helps students feel at ease in their academic life and daily life.
5. We provide a living environment where you can study with peace of mind.
6. We will take responsibility for supporting students in gaining qualifications and getting employment in Japan.
There are many other support systems available too!
Employment achievements of HAL international students
HAL is powerful for international students going into the industry.
Aiming / BANDAI NAMCO Studios / CAPCOM / CyberAgent / CyberConnect2 / DMM.com Labo / DOCOMO Systems / GAME FREAK / GMO Internet / INTELLIGENT SYSTEMS / Klab / Konami Amusement / Konami Digital Entertainment / LINE / LIXIL / miHoYo / SEGA / SQUARE ENIX / SUNRISE / TOYOTA Motor East Japan / Yahoo JAPAN / Hero Mutual Entertainment / Shogakukan Music & Digital Entertainment / Toei ZUKUN LABORATORY / Nissan Motor Co., Ltd./Japan's No. 1 Software / Hitachi (China) Co., Ltd./Nintendo / Hakuhodo i-studio / NetEase Games / and many others
* Sample from the achievements of graduates of three HAL schools (Tokyo, Osaka, Nagoya)
Voices of the students who have been offered positions
▶Events
Subjects / Courses
Game Design / Game Planning / Game Production / CG Images / Graphic Design / Anime and Illustration / Music / Car Design / IT/WEB/AI
Departments and majors that cover the cutting-edge industries.
After graduation, the professional world you are aiming for awaits you.

Upon graduation, you will obtain the title of "advanced diploma" / "diploma". It will be easier for you to re-enter and get a job in Japan.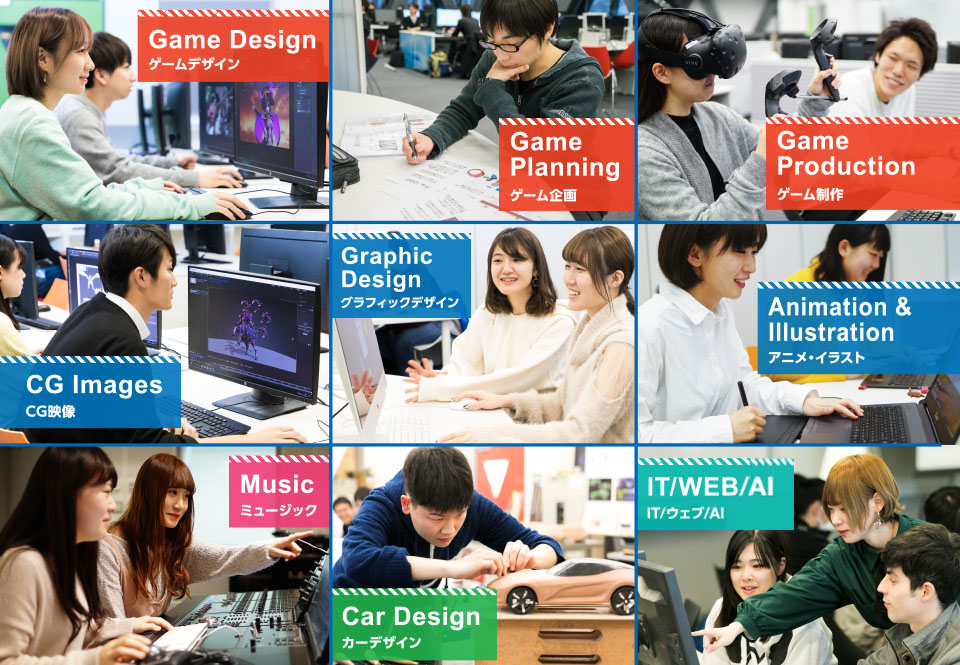 ▶Click here for more details
Facilities / Equipment
HAL has prepared an environment where you can learn the latest techniques from around the world, not just in Tokyo, Osaka, Nagoya, and Paris.
Creators who play an active role worldwide are born at HAL.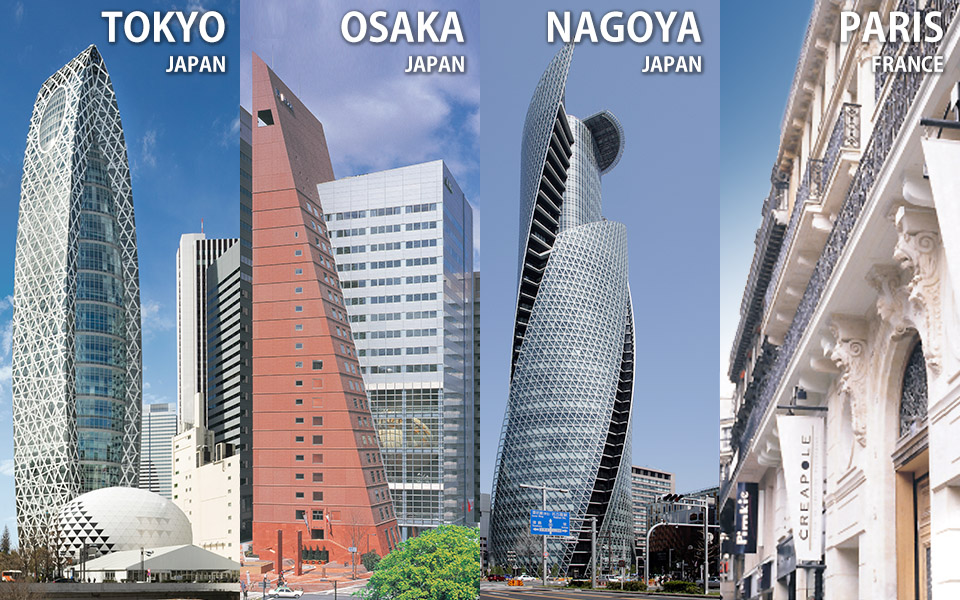 HAL
HAL TOKYO 3 minutes on foot from Shinjuku station (West Exit)
50 floors above ground, Cocoon Tower general school building
HAL Osaka 3 minutes on foot from Osaka station
21 floors above ground, 3 floors below ground HAL Osaka general school building
HAL Nagoya 3 minutes on foot from Nagoya station
36 floors above ground, Spiral Towers general school building
CREAPOLE (HAL Paris)
HAL Overseas Office
HAL has five offices around the world, including its sister school in Paris.
Each office supports global learning, from overseas research / training and support when studying abroad, to collaborations with companies and educational institutions overseas as well as admission consultation when enrolling directly from overseas.
France office (Paris campus CREAPOLE)
America office (New York)
Italy office (Milan)
Shanghai office
Taiwan office
▶Enquiries
Introduction to the facilities at HAL
The environment nurtures people! Make the most of the best development and production environment approved by the PROs!
Campus Life
Voices of the International Students
Voices of the International Students
×
FAQ
What kind of subjects do you offer?

[Daytime Departments - 4 years]

Game College
・ Game Design Course.
・ Game Planning Course.
・ Game Production Course.

CG・Design・Anime College
・ CG Images Course.
・ Graphic Design Course.
・ Anime and Illustration Course.

Music College
・ Music Dept.

Car Design College
・ Car Design Dept.

IT College
・ Advanced Information Processing Dept.
・ Web Development Dept.

[Daytime Departments - 2 years]

Game College
・ Game Dept.
CG College
・ CG Dept.
Music College
・ Music Dept.
IT College
・ Information Processing Course.
・ Web Course.

[Daytime Departments - 1 year]
National Examination College.
・ National Examination Dept.

[Evening specialty Departments - 2 years]7:00pm - 9:15pm
・ Game Dept.
・ CG Images Dept.
・ Graphic Design Dept.
・ Web Design Dept.
・ Network Dept.
・ Information Processing Dept.

[Evening Courses - free plan]7:00pm - 9:15pm
・ Game Field
・ CG Images Field
・ Graphic Design Field
・ Web Design Field
・ Network Field
・ Information Processing Field
・ National Examination and Vendor Certification Acquisition

[Saturday Courses] 9:30am - 12:30pm & 1:30pm - 4:30pm
・ Fundamental Information Technology Engineer Course
・ Applied Information Technology Engineer Course

* International student visas are not available for evening courses and Saturday courses. Please contact our enrollment inquiry office.

What educational features does HAL have?

We have made an industry-academic collaboration, which is ideal in specialized education, a reality. We thoroughly provide practical education so students can learn from the professionals by interacting with companies. We also train students in unique subjects such as" creativity development, " "self-development", and "thinking skills." Maximize your creativity and train your communication skills needed in Japanese society.

What achievements do you have?

Impressive contest results. Many consecutive prizes won in contests in a wide range of fields.

Game creator's gateway "Japan Game Awards Amateur Category". HAL is a top school that has won the grand prize seven times, while many works are gathered from universities and vocational schools all across the country annually. In 2020, our school has set a new record in Japan for winning the contest for 13 consecutive years. It is a record that proves the impressive abilities of the students at HAL. * Including prizes won under the old name, "8 times grand prize winner & prizes win for 17 years consecutively."

In addition, we have an industry-academia collaboration project "Case Study" where we practically work on a series of processes from planning to production in response to requests from clients such as companies / organizations and creators. We have achieved results by interacting with and learning from actual professionals while making the most of the rich sensibilities of the students.

Microsoft Japan Co., Ltd. Completed game app released to the general public.

Proposing the next design of Nissan "GT-R"

Yahoo Japan Corporation released an application that utilizes the Map Web API

Direct instruction by Takayuki Yanase of Shirogumi Co., Ltd., to produce HAL TVCF

And many others.

Can beginners study here too?

Go from ZERO to PRO.

Instructors who have experience in the industry will guide you from the basics. We also hold "special seminars" that welcome specialists from each industry as leaders.

With corporate support, we have installed various kinds of game development machines such as Nintendo Switch, Nintendo 3DS, PlayStation, Xbox 360, and the latest equipment such as motion capture and full digital surround system. As creators, we have created an ideal environment. Since you study in the same environment as that of the pros, even if you are a complete beginner at the time of admission, you will acquire the abilities needed work by the time you graduate.

Shigeru Miyamoto / Nintendo Co., Ltd./CEO Fellow / Works: Mario Series, The Legend of Zelda Series, Donkey Kong Series

Nobuo Uematsu / Composer / Works: Final Fantasy Series Yakubu Dvorsky / Game Creator / Works: Samorost, Machinarium

I'm worried if I can keep up with the classes

Don't worry. Passing the University admissions screening that places importance "motivation" and "sense of purpose" will help you to keep up with the classes. Since there is a complete homeroom system that continues even after enrolment, we will support each and every one of you closely.
Please rest assured that we also offer individual supplementary classes. In addition, we have dedicated international student guidance staff members to provide guidance. Japanese students who have the same dream as you will also be there to assist. There is also a special course to help improve your Japanese proficiency, and an instructor who can teach the Japanese language school's N1 (1st grade) level will give advice on preparing for the exam. We have created a learning environment where you can not only acquire Japanese language skills as well as specialized knowledge and skills, but also receive advice on daily life.
How to enrol
I would like some detailed school information.

We will send you the latest information regarding HAL for free.
Click here to request the school brochures (addresses in Japan only).

HAL Tokyo

HAL Osaka

HAL Nagoya

I want to know the enrolment requirements

Students who meet all of the conditions in 1.2.3 below, assuming that the purpose of studying abroad is clear and that they have a strong desire to acquire knowledge and skills in their specialized fields.

1. Those who have completed or are soon to complete the regular 12-year curriculum and will reach the age of 18 at the time of admission * If the regular curriculum is less than 12 years, or if you are under the age of 18 at the time of admission, please contact the admissions counseling office .

2. Students who meet one of the following conditions for Japanese proficiency

・ Students who have studied for over 6 months at a Japanese language education institution specified by the Minister of Justice of Japan

・ Students who have passed the N1 (1st grade) or N2 (2nd grade) in the Japanese Language Proficiency Test (JLPT)

・ Students who have obtained 200 points or more in the Japanese language subjects of the Examination for Japanese University Admission for International Students (EJU) (total of reading comprehension, listening comprehension and listening comprehension excluding description)

・ Students who got 400 points or more in the BJT business Japanese proficiency test

・ Students who have studied for over one year at elementary schools, junior high schools, high schools, colleges of technology, junior colleges, universities, and graduate schools in Japan.

* Please contact admissions counseling if you have Japanese proficiency to fully understand the content of the class and have a status of residence that allows you to stay in Japan without any problems from admission to graduation.

Students who meet the admission qualifications of each department

* Admission qualifications vary depending on the department. Please contact the Admissions Office for more details.

I would like to ask about how to enrol.

● If the applicant resides in Japan

Please contact the admissions office or visit the school directly to obtain the "International Student Admission Guidelines".

● If the applicant resides in his / her own country

There are two systems that allow admission by document screening * without coming to Japan to take the examination, and a system that asks a representative to apply for the application procedure. HAL will apply for status of residence on your behalf.

1. Overseas special admission system This is a system that accepts and selects applications directly from overseas for those who have passed the N1 (1st grade) or N2 (2nd grade) in the "Japanese Language Proficiency Test (JLPT)"*.

2. Admission system before arrival in Japan This is a system that allows you to take the examination for Japanese University Admission for International Students (EJU) outside Japan and submit it before you arrive in Japan, based on your grades and document screening *. The target audience is those who have obtained 200 points or more in Japanese subjects (total of reading comprehension, listening comprehension and listening comprehension excluding description).

3. Representative system Please ask a representative living in Japan to act for you. We will contact the representative regarding the selection date. * If necessary, we may conduct a video call or an interview by telephone.

Please contact us via phone or email.
Admission consultations available every day (10: 00-20: 00, except Sundays and holidays, 12 / 26-1 / 5)

HAL TOKYO: TEL. 03-3344-6000 E-mail: nyugaku.tokyo@mode.ac.jp

HAL OSAKA: TEL. 06-6345-2222 E-mail: nyugaku.osaka@mode.ac.jp

HAL NAGOYA: TEL. 052-582-0001 E-mail: nyugaku.nagoya@mode.ac.jp

HAL TOKYO

HAL OSAKA

HAL NAGOYA

I would like to visit the school.

For those wishing to visit, there are school visits available everyday, even online! (10:00am - 8:00pm except Sundays and holidays, 12/26-1/5)

HAL TOKYO

HAL OSAKA

HAL NAGOYA

▶Enquiries
Contact Details
HAL Tokyo

1-7-3 Nishi-Shinjuku, Shinjuku-ku, Tokyo 160-0023
TEL. 03-3344-1010 E-mail:nyugaku.tokyo@hal.ac.jp

HAL Osaka

3-3-1 Umeda, Kita-ku, Osaka 530-0001
TEL. 06-6347-0001 E-mail:nyugaku.osaka@hal.ac.jp

HAL Nagoya

〒4-27-1 Meieki, Nakamura-ku, Nagoya 450-0002
TEL. 052-551-1001 E-mail:nyugaku.nagoya@hal.ac.jp